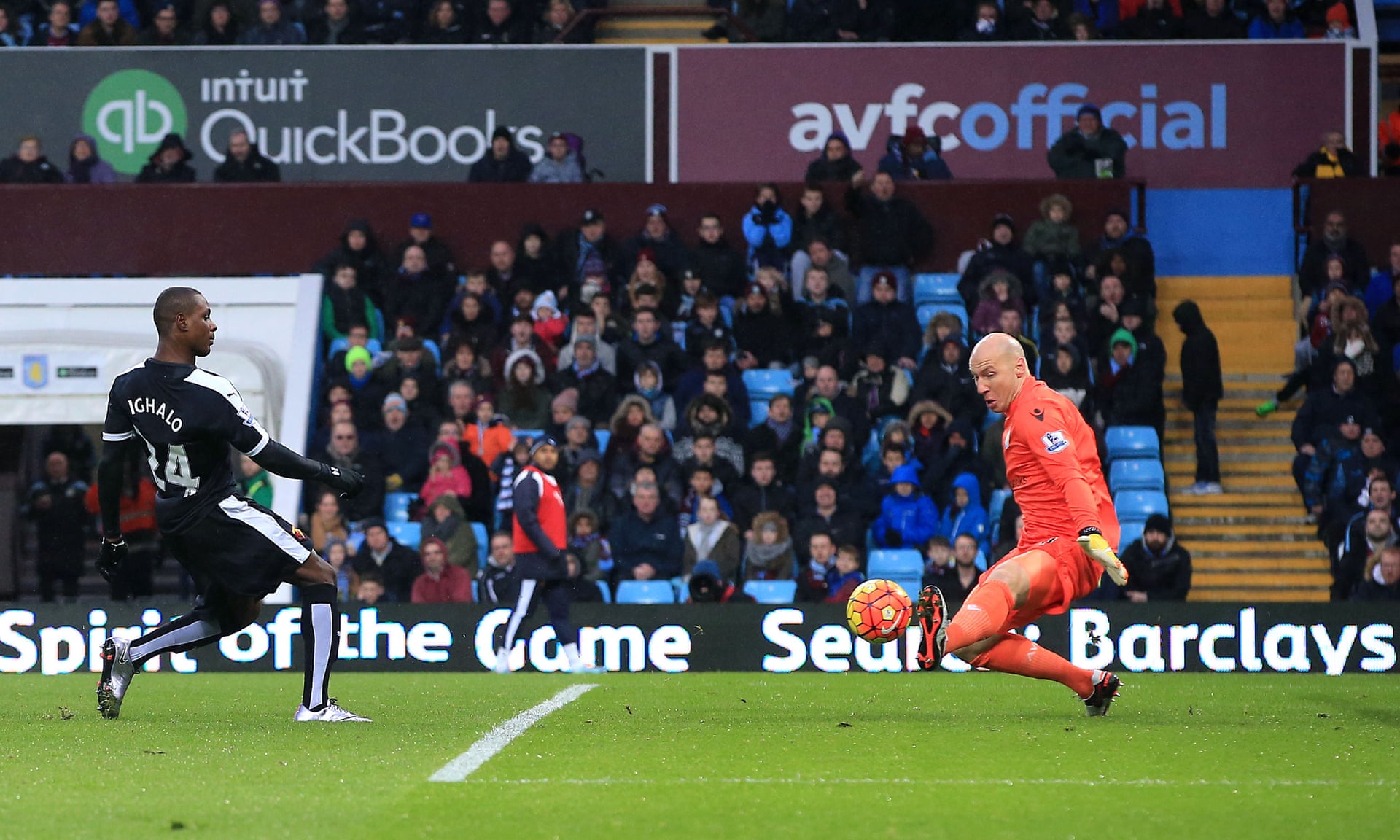 So Next Year I'll Have to Watch Games on Bein Sport?
Is this how our Premier League run ends? Losing 2-3 to a newly promoted side?
Or did it end with last week's 0-4 loss to Everton, a loss so disheartening I couldn't write about it. I had a headline—"When the Light at the End of the Tunnel Is an Approaching Train"—but nothing else.
It will likely be impossible to pinpoint the moment Villa secures relegation, and it won't be official for some time to come. But even I, an eternal optimist and true believer, don't believe we'll find safety this year. And Alan Hutton's own goal, when he nudged the ball away from an onrushing Odion Ighalo only to guide it into the corner of Brad Guzan's goal, sums up the season well enough.
Hope is a slow-acting poison. After Remi Garde engineered a shock nil-nil draw against Manchester City, I fully believed we could engineer another draw against Everton, despite their superior record against us. Who knew? Maybe we'd even steal a win. Ross Barkley's first goal at 17 minutes destroyed Garde's game plan, though, starting the rout, and by the whistle I was convinced our season was over.
One week later I went to the Globe, full of belief, with my mother and older son in tow. We could win against Watford. Take three points and, with a somewhat favorable schedule coming up, all we had to do was hang in there against the other relegation favorites until the January transfer window. Surely Randy Lerner would protect the sale price of his asset by buying enough players to secure a 17th-place finish.
Hope is a slow-acting poison.
And Villa started the game on the front foot. The work Garde has put in on the training ground seemed more than evident. After a nervous first few minutes when they struggled to move the ball out of their half, Villa slowly asserted control and seemed far more likely to score first—until, against the run of play, Ighalo was able to take advantage of a defensive letdown and put the visitors ahead.
Villa responded well, with a header from Micah Richards to level the score at 1-1. They continued to dominate the game, and belief among the 21 Villans who'd made the trip to the Globe returned. Still, we needed to win this game, not just draw it.
Hutton's own goal epitomized the kind of season Villa is having: even when we play well, we find a way to lose. Maybe that's just the nature of losing itself. When you're bottom of the table and lacking confidence, you're more likely to make game-losing errors. When you're playing well, you get the extra bounce.
Watford's defense was at sixes and sevens on several occasions and yet Villa was unable to capitalize. When a scary head injury to Heurelho Gomes brought on Lithuanian reserve keeper Giedrius Arlauskis, who appeared to have buttered his gloves before stepping on to the pitch, we will weren't able to capitalize. Brad Guzan had a solid game, but I have to believe that had he dropped the ball even once, a Watford player would have materialized to put it home.
And so it was with the winning goal. A ball bouncing around in the box, an opportunistic Troy Deeney on the spot, and it was game, set, and season.
A late strike by Jordan Ayew gave us wan hope—but praying desperately for a 3-3 draw and another single point is proof that the poison had spread throughout our systems. We were dead and didn't even know it yet.
The Gods Must Be Crazy
Luck can be a factor in sports, and we haven't got any. In fact, after the game, Simon, Brian, Andrew, Bob, and I stood around wondering what collective karmic debt we had left unpaid. Certainly at times it has felt as though a spiteful god is amusing himself by trying to see just how much misery he can inflict upon us.
I've got news for you, Loki: you'll never break the Villans.
(For the record, my proposal of a group vision quest to atone for our sins and get us right with the gods of football was tabled.)
Andrew suggested a new kind of stat might be necessary for Villa: minutes elapsed since last game-losing error. Ironically, we were quite good statistically. This was one of our best games, on paper. If only we could have played the game on a sheet of three-hole-punch college-rule, instead of rainy Villa Park, where the team we love owns the worst home record in the Premier League—if not all the leagues. It boggles the mind that we have not won at home since last May.
This has to be the toughest loss of the season. Not only was it a true must-win—although arguably too late even for that—it was a game we should have, and could have, won.
And yet.
Someday, All This Will Be Yours
There are times when I feel badly about bringing my sons into this. But not today. Despite the result, Felix still saw the class and good humor of the Villa family. And he has perspective: he knows that today's loss, and even relegation, are not the end of the world. I often remember meeting Mike Leddy, the former Lord Mayor of Birmingham, who scoffed at our current troubles, remembering all too well the season Villa played in the old League Three.
And if losing and suffering build character, my sons will have character to burn.
If there's a silver lining, it's that we'll have a couple of chances to beat Birmingham City next year.
Hope Springs Eternal, Baldrick
Am I wrong? Can we come back? No team has ever managed it from a position this dire. And even though it seems likely that survival might be achieved with a historically low points total, league history, current form, and basic math conspire against us.
So far we have 5 points from 14 games, or .36 points per game. To survive, we'd likely need 24 points from the next 24 games. Or, to put it in layman's terms, to play three times better than we have so far.
Please prove me wrong, Villa.